Welcome to How To Secure Your SMB Network! This is part 9 of a 9 part series that discusses our approach to Network Security and how we secure client networks. As you will see there are many facets that go into creating a secure network. Think of it as puzzle with each piece playing an important role. The days of installing Norton Anti-Virus on your computer and thinking you are safe are over.
Conclusion
The layered approach that Banks Technology Services uses to secure our client's networks was  developed over many years of seeing what works and what does not. No single piece of this puzzle will secure your network. Each piece focuses on a particular attack surface and together they minimize the risk to your Servers, Computers, and your data. Each business has different needs and will need these pieces catered to those needs. Some companies have remote work forces and do much of their work in the field or at client sites. These companies would have very different security needs than a small office of five computers and one server where everyone works in the same building. The principles still apply, but they need to be tailored to specific business needs.
A discussion of Network Security would be incomplete if we don't briefly cover backups. Even with a properly secured network, your data needs to be backed up and backed up correctly. Even on the most secure of networks, threats can still gain a foothold. Whether it's an equipment failure, a zero day exploit, or simply a user making a bad decision. Having consistent verified backups is a must in today's world. The best network security doesn't protect against, fire, flood, or theft. Always make sure your backups are working correctly and test them on a regular basis. Finallym, have a plan for recovery so that in a worst case scenario you can immediately implement your plan instead of trying to figure out how to best get your data back.
I hope you've enjoyed How To Secure Your SMB Network. My wish is that you are more informed because of the time you've spent reading this material. I also hope that you take a few minutes to review your company's network security and identify the areas that may need some attention. If you would like additional guidance, a few questions answered, or someone to handle it all for you, please contact us 540-632-2520 or email me personally at [email protected]. Banks Technology Services is headquartered in Roanoke, VA. We have managed services clients throughout Southwest and Central Virginia and do consulting work for clients nationwide.
How To Secure Your SMB Network – E-Book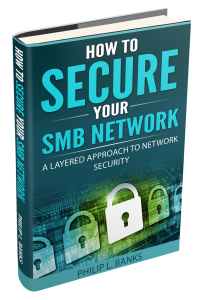 This is the final part of a nine part series that details How To Secure Your SMB Network. Every Wednesday we will post a new section that gives details and examples on how Banks Technology Services secures out client's networks. We have compiled all of this information into into an EBook which you can download for free. The E-Book contains additional information, real world examples, and is updated as new technology emerges. To receive your FREE copy, head on over to the [intlink id="7985″ type="page"]How To Secure Your SMB Network[/intlink] page.
[content_band style="color: #333;" bg_color="#f3f3f3″ border="all" inner_container="true"] [custom_headline style="margin-top: 0; align:center;" level="h3″ looks_like="h3″ ]How To Secure Your SMB Network Blog Series[/custom_headline]
Part 1 – Network Security Principles
Part 2 – UTM Gateyway
Part 3 – Content Filtering
Part 4 – Software Restriction Policies
Part 5 – Spam Filtering
Part 6 – Endpoint Security
Part 7 – Patching
Part 8 – Administrative Rights
Part 9 – Conclusion[/content_band]